Kenwal Steel is your leading North American steel services provider. They operates world-class steel service centers, providing a large variety of different grades and types of flat rolled steel products to customers in numerous industries. Routinely recognized as one of the top 50 steel service and distribution companies, one might wonder… how do they do it? Read on to learn more about how they became one of the leading North American steel service providers, consistently recognized as a top player in the industry.
A Rich History in Detroit's Steel Industry
Founded in Detroit in the 1940s, Kenwal Steel has a rich history in the city's steel industry. The current chairman and CEO, Stephen Eisenberg marks the third generation of Eisenberg family leadership. Kenwal was founded by Stephen Eisenberg's grandfather, Sol Eisenberg, in Detroit in 1947. Stephen Eisenberg succeeds his father, Kenneth Eisenberg, who led the company for the past 50 years.
For over 75 years, Kenwal has established the business with a strong commitment to quality and customer service. The company remains family-owned and continues to uphold the same values they've had for many years.
A Leader in the Steel Industry
As a leading operator of North America's most successful flat-rolled steel service centers, Kenwal has rightfully earned the title of the "Titan of the Industry." Kenwal proudly serves the automotive, appliances, agriculture, heavy equipment, industrial manufacturing, tubing and other major equipment manufacturers. Whatsmore, they specialize in meeting customers' most exacting production and quality standards with precision processing and proudly applying their expertise to all they do.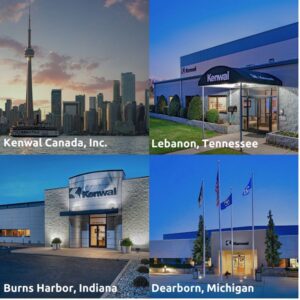 Kenwal steel has seven slitting lines housed in their strategically located steel service centers. These facilities are located in the United States and Canada, specifically: Michigan, Tennessee, Northwest Indiana, and Ontario Canada.
Kenwal's operations run smoothly and efficiently, thanks to heavy investments in the industry's most sophisticated processing equipment, teams of steel specialists, an advanced A2LA Certified lab, and more. With a continued interest in investing in their operations to ensure maximum quality and uptime, it's their mission to meet customer needs with around-the-clock availability.
In addition to having state-of-the-art facilities, Kenwal also boasts some of the best inside sales teams and material control personnel in the business, ensuring exceptional delivery day in and day out.
Kenwal Steel's Steel Processing Services and Products
Kenwal specializes in steel pickling and flat-rolled steel products throughout the United States, Canada and Mexico. Their commitment to excellence extends beyond their products. The company offers the highest quality pickled & oiled steel possible through their computer-controlled push-pull steel pickling line and in-line tension-leveling process. Kenwal shares a facility with one of their steel slitting locations so processing customer's coiled steel orders is fast and efficient– getting you the pickled & oiled steel you need, when you need it.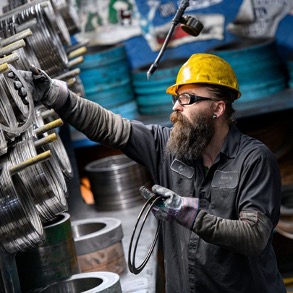 Providing products such as hot and cold rolled steel, galvanized steel, electrogalvanized steel, galvannealed steel, aluminized steel, dual phase and martensitic grade steels, Kenwal considers themselves "The High Strength Experts."
In addition to their broad range of steel products mentioned above, Kenwal Steel specializes in advanced high-strength steel (AHSS) and ultra-high-strength steel (UHSS). These specialty steel products offer improved strength and durability, making them ideal for demanding applications. AHSS and UHSS are commonly used in automotive and construction industries where safety and performance are of utmost importance. Kenwal's expertise in these products allows them to cater to the specific needs of their customers, providing them with the highest quality materials for their projects.
Material Control and Delivery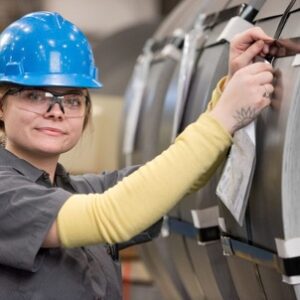 As a leading North American steel services provider, Kenwal's highly-trained technicians work diligently to deliver each steel order on time and work hard to give customers peace of mind. After processing, their primary goal is to see that steel gets through their service centers quickly and efficiently. These experts ensure that everyone gets exactly what they ordered, every time.
What Does "Complete Traceability" Mean?
"Complete Traceability" means that all the steel coils that come through their service centers are tagged and tracked. Any quality issues can then be traced back through their processes and all the way back to the originating steel mill for quality control and supply chain improvements.
The strategic placement of Kenwal's steel service centers allow for minimal shipping time. Kenwal also provides the best steel delivery experts that are available. They help determine the best delivery options to whatever location necessary – with speed, cost-effectiveness, and facility capabilities in mind.
(Sound good? Then Contact Kenwal today to get started on your next order!)
Join Team Kenwal
Comprised of highly skilled and experienced professionals who are passionate about delivering exceptional products and services to their customers, Kenwal's culture of teamwork, collaboration, and innovation is the foundation of their success. They commit to providing personalized solutions to each customer, ensuring that each experience is a good one.
"Kenwal is dedicated to hiring and developing employees, providing them with a clear career path for long-term employment," says John DuBrock, VP of Operations at Kenwal. "We also provide union wage scale and benefits. This is a family-owned business and our culture reflects this fact… it's a special place to work."
Kenwal also hires high school and college graduates and is devoted to creating a healthy work environment . As a result, Kenwal has many tenured employees as well.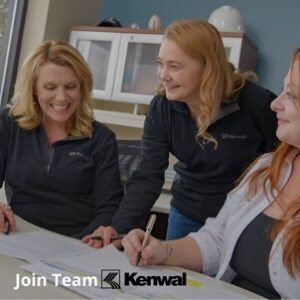 Interested in joining the Kenwal family? If so, we invite you to fill out our contact form and submit your resume on our careers page or reach out to Kenwal's Human Resources department. We look forward to hearing from you and hopefully welcoming you to the Kenwal family.
Kenwal Steel – Summary & Contact
Kenwal Steel has become a leading flat-rolled steel service center in North America. The company caters to industries such as automotive, appliances, agriculture, heavy equipment, industrial manufacturing, and tubing. With more than 70 years of experience in the steel industry, Kenwal specializes in providing their customers with high-quality products and topnotch steel services. Kenwal's commitment to customer satisfaction has been the driving force behind Kenwal's exceptional performance and growth.
If you want to see more of Kenwal Steel follow all their socials:
Youtube: https://www.youtube.com/@kenwalsteel2359
LinkedIn: https://www.linkedin.com/company/kenwal-steel/
Facebook: https://www.facebook.com/KenwalSteelCorp
Twitter: https://twitter.com/KenwalSteelCorp
Instagram: https://www.instagram.com/kenwal_steel/
Become a customer today! Visit us or request a quote: https://kenwal.com/contact/. You can also call us at (313) 739-1000 or email us at [email protected].